Meteorite Jewellery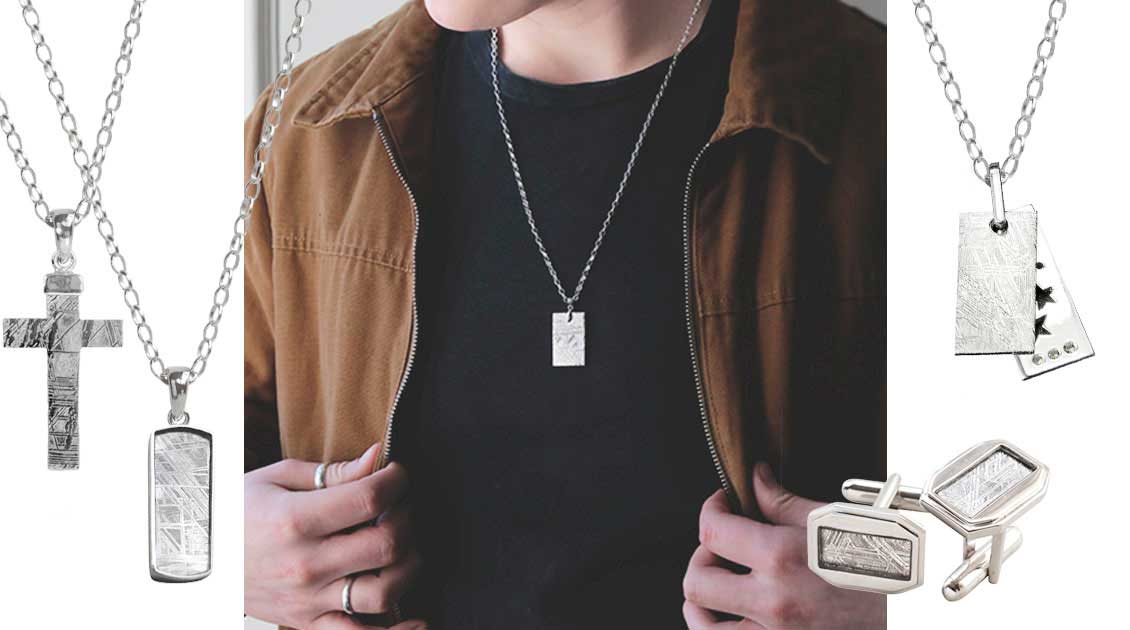 Are you looking for an out of this world gift? Then your answer is Meteorite Jewellery. Did you know that Muonionalusta meteorite is created from the core of another planet? It came to rest over a million years ago in Northern Sweden. Which also makes it very old. Moreover, hunting season is for a few short months a year, and for only licensed prospectors which means a handful of meteorites get dug up each year. The crystal formation featured on each piece was formed in the vacuum of space over millions of years, which makes it unique and impossible to re-create. Martha Jackson is lucky to be one of the main worldwide suppliers of finished meteorite jewellery and specimens.
Each item will arrive beautifully packaged. with an information sheet and a certificate stating the authenticity of each item.
So, if you want to give a gift that is older than this planet then this might just be what you are looking for.
Filters
Meteorite Star and Sphere Necklace

£

90.00

Meteorite And Silver Saturn Necklace

£

105.00

Gold Plated Meteorite Ring Necklace

£

95.00

Small Muonionalusta Meteorite Dog Tag Necklace

£

115.00

Large Muonionalusta Meteorite Dog Tag Necklace

£

145.00

Muonionalusta Meteorite Rectangular Necklace

£

175.00

Muonionalusta Meteorite Watch

£

220.00

Oval Meteorite Cufflinks

£

225.00

Meteorite And Sterling Silver Cufflinks

£

225.00

Muonionsalusta Meteorite Spinning Orb Necklace

£

159.00

Muonionalusta Meteorite And Sterling Silver Cross Necklace

£

178.00

Muonionalusta Meteorite Sterling Silver Tipped Necklace

£

125.00

Sterling Silver And Meteorite Cufflinks

£

225.00

Muonionsalusta Meteorite Slice

£

75.00

Muonionsalusta Meteorite Sphere

£

85.00

Meteorite Cufflinks

£

190.00