There are so many thought processes involved in present shopping. It generally starts with "who's it for" and "what would they like". There is also that dreadful worry in the back of your mind about getting the wrong gift. Something which will be politely accepted with thanks and kisses but will immediately be discarded, never to see the light of day again. In all honesty, we've probably all been guilty of this at least once.
As you spend more time considering the gift you will buy you start to imagine the joy it will bring. The warm fuzzy feeling of delight and love the recipient will experience when they open it and see the wondrous offering you have procured for them. The sparkle in their eyes, the gasps of joy and the (you've really hit the nail on the head) "thank you so much"
Now there is a plethora of gifts which can inspire such reactions, ranging from a handmade card to the deeds for their own sun drenched tropical island. We know the latter will be outside most budgets however, a really great way to make a gift extra special is to have it personalized.
Personalisation can take many forms, our particular favourite is engraving. Again, there are a vast number of things which can be engraved, pens, trophies, mirrors and jewellery to name but a few.
An engraved message is often the icing on the cake when it comes to jewellery. Not only does the lucky receiver get a beautiful piece of jewellery, there's also a thoughtful message engraved forever on it. This makes the gift completely personal to them. No one else will have one quite like it.
Oh what to write…
In some respects, though it doesn't always feel that way, picking the piece of jewellery to be engraved is the easy part. Lockets and rings are firm favourites and have been for centuries but other options are available. Bangles, bracelets, watches and cufflinks can often be engraved as well. The great thing about lockets and rings is that you can usually fit quite a few letters/characters on.
We've certainly seen a wide variety of messages, some of which we would be unable to repeat. Let's just say there are some pretty passionate gift givers out there! The best messages often contain the person's name or a special date. This is what makes the message personal and means the gift will mean a lot more to them. And don't forget, the best way to end one of these messages is with a couple of kisses, feel the love.

X marks the spot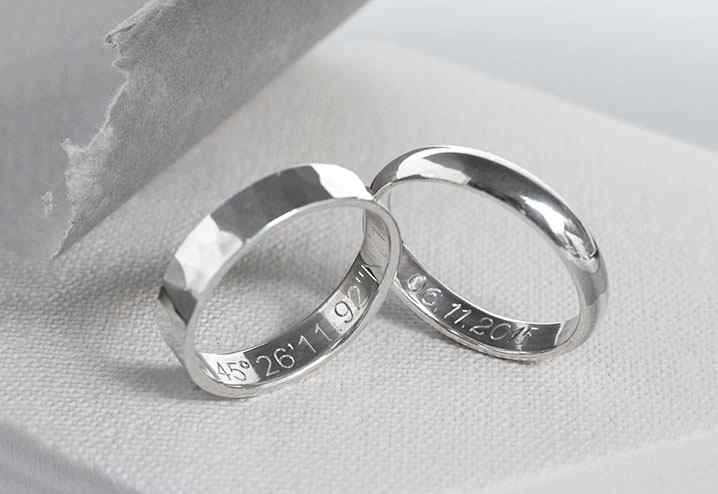 One of our favourite messages we engrave is co-ordinates. These can be the co-ordinates of anywhere in the world which is of special importance to you or the person you are buying the gift for. Where you first met, where you had your first kiss, where you proposed and so on. There are lots of different ways to find the co-ordinates you want to have engraved, you may already know them. One of the easiest ways is to use Google Maps. Here is a quick guide on how to do this;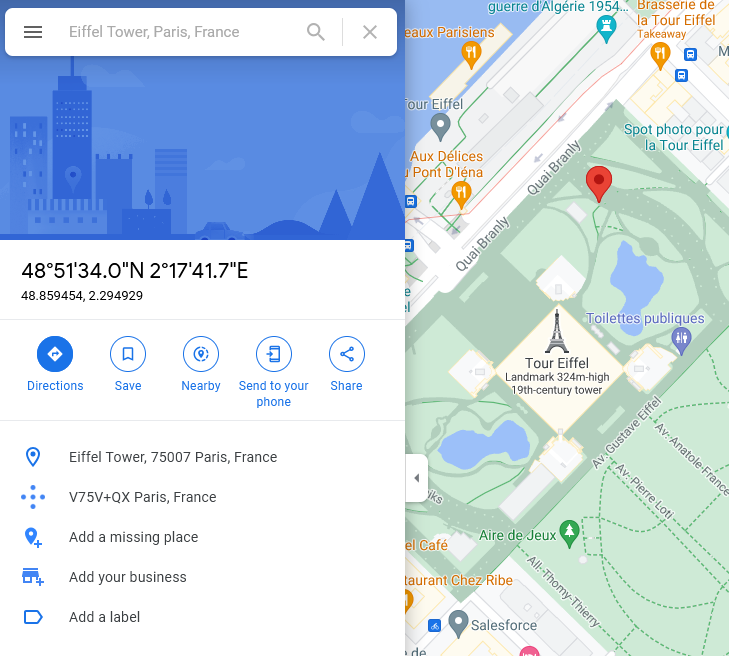 • Open up Google maps
• Find your special place. You can do this by entering postcodes, street names, landmarks etc. We're using the Eiffel tower for this example.
• Once Google maps has found the place you are looking for it highlights it with a red pin. If you right click on the pin you will get a list of options. Select "What's here?".
• When you click on "What's here?" a small box will open at the bottom of the screen with details which will include the co-ordinates you are looking for eg: 48.858497, 2.294513.

• These will however, be a string of numbers. If you click on these numbers a large box will open on the left-hand side of the screen. This will contain a more artistic version of the co-ordinates e.g: 48°51'30.4″N 2°17'40.1″E. Simply copy these co-ordinates and you will have them ready to paste into the "Text to be engraved" box.
As an engraved message, these look great but you can also add a date or initials for that extra special touch.
So, happy gifting everyone, we hope that this has given you some useful advice about personalisation.